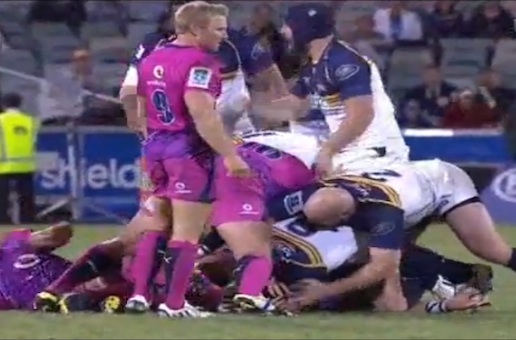 You know the story: with scores tied at the death on Saturday night, the Brumbies beat the Bulls with a controversial penalty after the donger.
Here it is:
So – was it a penalty, and if so, to whom?
Here are two sets of analysis for you to choose between:
Scott Allen's
The referee got it wrong twice:
1.  Kimlin was clearly offside at the ruck before and a penalty should have been awarded to the Bulls. The referee made the classic mistake of calling that the ball was out of the ruck because the halfback had his hands on the ball. Law 16.6 says 'A ruck ends successfully when the ball leaves the ruck …' Here's a link to the ARU video explaining that the ball has not left the ruck when the halfback has his hands on the ball. Law 16.5 (d) covers offside at the ruck and the IRB has posted videos showing examples of players offside at the ruck .
2. White was off his feet when he played the ball in the tackle (it was not a ruck until the arriving Bulls player made contact) and a penalty should have been awarded to the Bulls. White clearly went off his feet later once the ruck was formed but that is not the issue; when he first played the ball he was not supporting his own weight and was instead kneeling on the ball carrier, in contravention of law 15.6 (a), which says 'Players are on their feet if no other part of their body is supported by the ground or players on the ground ' (my emphasis). Had he had straight legs he would have been able to support his own weight like Pocock did. (Fardy was fine because he was the tackler and released the ball carrier before getting to his feet and trying to play the ball.)
Mine
(Having been 'refreshed' since lunch 6 hours earlier)
Ref called holding on ground by isolated player before White went off his feet. Simples. #BRUvBLU

— Matt Rowley (@MattRowley_) March 30, 2013
I haven't watched the incident again until now – what's your view?