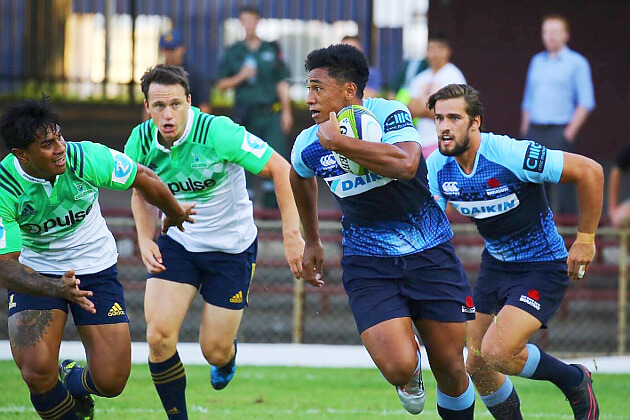 Einstein must have been a keen follower of the Waratahs when he said "We cannot solve our problems with the same thinking we used that created them".
The Waratahs have not addressed persistent weaknesses in their team and despite a large number of personnel leaving and the opportunity to do so, they have not.
The weaknesses that come to mind are the weak set pieces, lack of pace, lack of a kicking game, and lack of creativity, flexibility, and adaptability. They play one way whether it is working or not.
Therefore Waratahs' fans should expect highs and lows throughout the season.
---
Irae Simone – expected to challenge this year
Squad changes
Regular starting players that have moved on are Tatafu Polota-Nau, Dave Dennis, Wycliff Palu and Kurtley Beale.
Some other regular matchday players are not returning either: Benn Robinson, Jeremy Tilse, Sam Lousi, Zac Guildford and Matthew Carraro.
New players joining or coming back to the Tahs, whom I expect to make the starting team are Sekopu Kepu, Cameron Clark, and Taqele Naiyaravoro.
New players whom I expect to challenge to make the 23 are Damien Fitzpatrick, Jake Gordon and Irae Simone.
The scales have hardly been balanced. Even taking into account the expected continuing improvement of Jed Holloway and Jack Dempsey the Waratahs are weaker than last year.
The greatest loss is of Kurtley Beale, and no new players fill in the areas in which he provided points of difference. Beale added creativity, pace and a kicking game, and none of these have been addressed with the new players.
The missing Guildford was also pacy, and Robinson, the quickest in the squad, may not be chosen too often because he avoids contact too much.
Additionally Foley lacks creativity and play-making skills as a flyhalf and Beale formed a good partnership with him to help address these areas. Without Beale the Waratahs are quite predictable and lack spontaneity. This was evident last year with the performances of the Waratahs before and after his injury.
Kurtley Beale is greatest loss from 2016
---
Waratahs 1st XV
First XV most likely to be selected (not necessarily their strongest side)
Players with an * are new to the squad.
1. Tom Robertson
2. Tolu Latu
3. Sekope Kepu*
4. Dean Mumm
5. Will Skelton
6. Jack Dempsey
7. Michael Hooper
8. Jed Holloway
9. Nick Phipps
10.Bernard Foley
11. Taqele Naiyaravoro*
12. Rob Horne
13. Israel Folau
14. Cameron Clark*
15. Andrew Kellaway
Waratahs will be glad to have Kepu back
The scrum should be stable and competitive with the return of Kepu. However Polota-Nau, one of the best scrumming hookers in the world, is a big loss in this area. Additionally Skelton is a poor scrummaging lock; so overall the scrum looks average.
The lineout remains weak with the inclusion of Skelton.
The backline would have to be one of the slowest in super rugby.
The backrow is an area of strength and with all three players being quite young should see continuing improvement. This is consistent with how the Waratahs are spruiking the talents of Dempsey and Holloway and the impact they will make. If this pair keep improving will be Wallabies before the next World Cup.
The team on a whole is large and physical. This means the dominating, bruising style will continue to be played. Due to a lack of a kicking game, like last year, they will continue to keep the ball in hand and wear opponents down by running big forwards at them and keeping the ball alive through offloads, and getting over the advantage line.
This is a similar style to when Michael Cheika first coached them. The question remains, will Gibson bring in a new style in his second year as Head Coach?
Also having experienced halves with an established combination should be an advantage. They have three quality scrumhalves; so that is one key area at least that is well-covered, on paper.
The team will rely on strike players Folua and Naiyaravoro to score tries.
Jake Gordon – one of three quality scrumhalves this season
---
The Draw
1. Force – Home
2. Lions – Away
3. Sharks – Away
4. Brumbies – Home
5. Rebels – Away
6. Crusaders – Home
7. Hurricanes – Away
8. Bye
9. Kings – Home
10. Reds – Away
11. Blues – Home
12. Bye
13. Rebels – Home
14. Highlanders – Away
15. Chiefs – Away
16. Jaguares – Home
17. Force – Away
Overall a hard draw because three New Zealand teams are played away, and the harder South African teams are away. The byes are at good intervals. They do not have to travel as much since they play the Jaguares at home.
I expect the Waratahs to lose most of their games before the bye. Then to win most of their games after that.
---
Trial form
Trials results as predictors or indicators of competition success are meaningless. Players are coming and going and coaches try this thing and that.
For what is worth, the Waratahs had three trials.  In the first the Waratahs using mostly young players, including young leaders, had a good win against the Brumbies who played most of their best men.  In the so-called second trial, a few games in the Brisbane Tens, they missed a splendid opportunity to hone their ball skills and set up defensive structures quickly when the ball was turned over—or to reset for attacking when they got the ball suddenly.
In their last trial, against the Highlanders they were poor in the first half, as boys against men, but turned it around after half time and gave better than they got in a close finish.  It was worthy of note that their comeback was effected by many secondary players who may get more game time than we think this year.
---
The big picture
If you consider the big picture of the conference systems and the 2017 draw, then like last year only one Australian team will make the finals.
The Australian teams are playing the harder Africa 2 Conference teams whilst the New Zealand teams are playing the easier Africa 1 Conference sides.  It will be difficult for any Australian team to finish ahead of any Kiwi team. For two Australian teams to make the finals it requires both to finish ahead of two New Zealand teams and I can't see that happening.
---
Waratahs could surprise this year
Prediction
So what are the prospects of the Waratahs winning the Australian Conference and being the lone Aussie team in the quarter-finals?
They have a weaker team than last year and are playing sides from a harder Africa Conference.
The logical conclusion would be that the Waratahs' results would be worse, but my conclusion is contrary to that.
A competition is relative to the other teams. The Brumbies have been weakened even more than the Waratahs have been. The Rebels, Reds and Force all have strengthened rosters however not to the extent to bridge the gap, and the Waratahs play the two weakest Aussie teams from 2016 twice.
Australian Conference – 1st and automatic quarter-finalist
Overall position 8th (but the Conference system will place them 3rd,)
I expect them to lose narrowly to the third-placed NZ team in the quarters, as the Brumbies did last year.
See Australian Conference Super Rugby Preview here